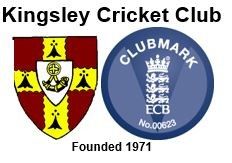 Kingsley Cricket Club Junior Registration Form
(kingsley.play-cricket.com)
We have a thriving junior section that we are very proud of, currently running teams at u-9, u-11, u-13 and u-15 levels.
School Years 1 and 2 - Important Notice 
During the 2017 season for our younger children we will be running "AllStars" sessions which is an ECB led cricket initiative aimed at 5-7 year olds (further information can be found on the club website). This is being launched nationally on the 19th May and sessions will be held at our club. Registration for this programme is done via the ECB itself, so to register your child please follow the link below. Any questions regarding AllStars please contact us at kingsleyallstars@gmail.com
https://ecb.clubspark.uk/AllStars/Course/c74a3873-adb0-44e9-acbf-b032b221a535
School Years 3 and above

For all other age groups, outdoor coaching is scheduled to start on May 6th and team managers will confirm ahead of the time. For school years 3 and upwards you can register your child for 2017 here by clicking on the link below.
Register now with KCC